Studio News
-- March 29, 2018
Africa Wild Life, Panoramic Photography by Tom Sheckels
Just published my new Africa Wild Life Panoramic Coffee Table Picture Book. The 110 page book opens up to reveal 8in by 20in panoramic images of Elephants, Lions, Leopards, Cheetahs, Baboons, and Lilac-breasted Rollers, to name a few, all in their natural habitat. The new Layflat format means that each two page spread opens up like a single continuous image with no gutter where the book is bound. You contact me if your interested in buying a copy. Preview the book at
Africa Wild Life
.
-- Mar 31, 2017
New York City
Look across the East River at both the Queensboro Bridge and the Rooselvelt Island Tram. Enjoy the amazing panoramic cityscape from the Observation Deck at the top of the recently completed Freedom Tower. These views that have not been attainable since the 911 catastrophy. And of course, there is the iconic Times Square shot at night.
Toms.pictures/NYCnew
-- Mar 30, 2017
San Antonio, Texas
Spetacular panoramic views form the Observation Deck at the Tower of the Americas.
Toms.pictures/SanAnt
-- Jan 20, 2017
Cuba
Early December, Lydia and I spent 10 days in Cuba, which included several days in Havana, Ceinfegous, Trinidad, and Isle of Youth, a large Cuban island just south of the main island. Panoramics can be seen here:
Toms.pictures/Cuba
-- Dec 1, 2016
New Web Site Domain Name
I recently acquired a new domain name that directs you to my (this) web site. It is very easy to remember and as simple as:
Toms.Pictures
Thats right, just
Toms.Pictures
Try it:
Toms.pictures
-- Nov 1,2016
Cape May, NJ
Lydia and I spent our Anniversary weekend at a Bed and Breakfast in picturesque Cape May, NJ. I found time to take some panoramic pictures of the wonderful suroundings. That included the Victorian style houses and of course the Cape May Lighthouse .
www.sheckelscreations.com/CapeMay
--Oct 15, 2016
Washington DC
Added 13 horizontal and vertical high resolution panoramics from Washington DC. The new African American Museum, American Indian Museum and other Washington views but not the typical iconic views....
www.sheckelscreations.com/WashingtonDC2016
--July 31, 2016
Azores Adventure
Added 47 large high resolution Panoramic Images from the Azores Islands. Located 1,000 miles west of Portugal in the middle of the Atlantic Ocean, this Archipelago is one of the more beautiful and least visited places in the world.
www.sheckelscreations.com/Azores
--Mar 4, 2016
China Adventure
Added 60 large, high resolution Panoramic Images from China. Scenes include the Great Wall of China, Forbidden City, Terracotta Army, Tibet, Yangtze River and Three Gorges Dam, Guilin, Shanghai, and Hong Kong.
www.sheckelscreations.com/China
--Mar 4, 2016
Unusual and perhaps Unsafe ways of getting around in China
What is you preferred mode of transportation in the rural areas of China? Take a look at some of your options.
www.sheckelscreations.com/ChinaWheels
--Jan 22, 2016
Cape Town, South Africa
Added large panoramics of Cape Town and the surrounding wine country to the gallery.
www.sheckelscreations.com/CapeTown
-- Sept 24, 2015
African Safari Adventure
For three weeks in August, Lydia and I had an amazing time in Southern Africa. We spent 5 days in Capetown, then traveled North, staying at Safari camps in South Africa, Botswana and Namibia. The exotic wildlife was just fabulous and I've set up a link to view my favorite 80 wildlife images.
www.sheckelscreations.com/Africa1
Also I have finished my set of Wildlife Panoramic Images from the Africa Trip. You can view them here:
www.sheckelscreations.com/AfricaPanos
-- July 1, 2014
Unique Moorestown Note Cards
Now available at
Navy Blue Home and Gifts, 3 East Main Street, Moorestown, and
Moorestown Hardware, 300 Mill Street, Moorestown
-- Feb 11, 2014 I'm excited to let you know that I'm currently the featured photographer with a worldwide niche photography stock agency, Panoramic Images. They specialize in wide and large format panoramic photography and I now have almost 500 panoramic images with them. You can read the article and check out some of my panoramic images at
www.panoramicimages.com
.
DIGITIZE YOUR ALBUMS
-- March 31, 2013 Do you have shelves of Photo Albums and Scrapbooks that are filled with photos and notes, documenting your travels, the kids growing up, events with relatives and firends, all those special times and occasions?
They are one of a kind personal memories that are irreplaceable......
Let's digitize those "pages of memories" onto a CD and know that you can have them to enjoy forever and ever.
A new professional photography service by Sheckels Creations Photography available at
www.DigitizeYourAlbums.com
.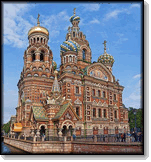 This is the Russian-Revival style church called the Church on Spilled Blood, built in St Petersburg on the spot where a Russian Tsar was assassinated. It is a memorial to the Tsar, built with many colored stones, Italian marble and lavished with many mosaics, icons and colorful domes. I took a series of 20 photos and stitched them all together to create an extremely high resolution image of the entire building. You can use zoomify to see the building as described, to see the beauty, artistry, and skilled craftsmanship that went into constructing it. Click on the image above, When the new image comes up, use the navigation bar at the bottom edge to zoom in and take a look around.
Church on Spilled Blood Zoomified
Panoramic Images Inc.
Most of the images in the Panoramic Photo Gallery can be purchased for commercial use from Panoramic Images - The Big Stock Picture Experts. Please go to
www.panoramicimages.com
and type the
location
and
sheckels
in the Find box.
+ + + +